Encouraging report on UK commit KC Ross-Miller
2010 point guard KC Ross-Miller was one of the first players to commit to UK after Billy Gillispie took over. At the time, he was between his freshman and sophomore seasons and was pretty unanimously highly rated. Since then, there's been some prevailing thought among UK fans that he might not be UK caliber.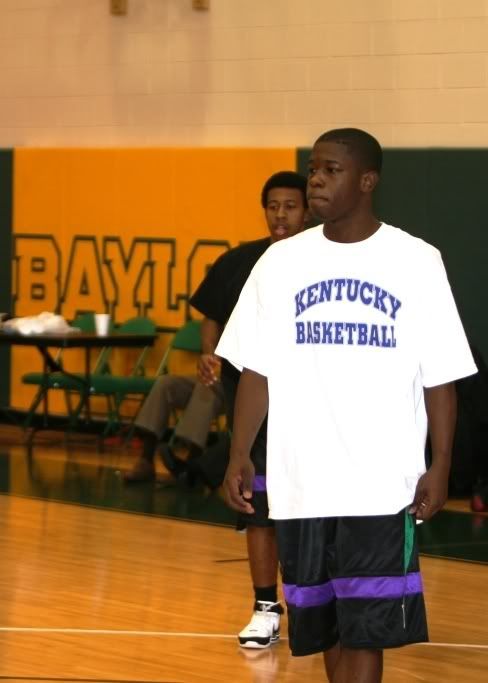 KC struggled through a couple games he played in Lexington, which did not help his cause in terms of winning over the UK faithful.
All that makes this kind of report from ESPN's Reggie Rankin on the 2009 National Prep Alliance Tournament even more encouraging:
K.C. Ross-Miller PG (6-1, 175)
Junior, Grand Prairie, Texas/God's Academy, Committed to Kentucky
Ross-Miller is a strong, compact lead guard. He attacks the rim or knocks down the free-throw-line jumper in transition. He has a strong handle and rarely gets knocked off the ball. Ross-Miller does a great job dribbling through contact and drawing fouls. At times, he struggles breaking intense pressure. He likes to beat his defender with hesitation and behind-the-back dribble moves, then he elevates to score or throws a drop-off pass to a cutting teammate. He can knock down open 3s with time and space but is still streaky. Ross-Miller has a nice midrange game and does a great job moving the ball and directing the offense. He is a decent rebounder and knocks down free throws late in the game. Ross-Miller is a very good athlete; he has good leadership qualities and great upside.
KC was named to the All-Tournament team and his God's Academy team won the Tournament, defeating Laurinburg Prep 79-65 last Thursday. KC scored 25 points and dished out 12 assists in that game.
Based on ESPN's report, it sounds like we're getting a pretty solid player with some room for growth. His ballhandling skills would likely be an improvement over some of our options this season, and it's great to hear he's got a solid midrange game. Ramel Bradley's midrange game always made him very dangerous as a point guard, and we don't have a single guy on this year's UK team that will take and make that shot regularly.
Additionally, a good midrange game is a pretty good indicator of sound form, which hopefully will translate into a good three point shot.
His leadership qualities should also help him quite a bit as he makes the transition from "point" guard to "lead" guard…yes, I am making fun of Billy Gillispie.
For more stories on the on-going saga that is Billy Gillispie go to ASeaofBlue.com where they have a Q&A with UK great, Mike Casey, who says that Gillispie is in over his head.  Also, check out Wink's story which wonders, "Gillispie blames himself for loss, but does he believe it?".